We often get asked 'what are some of the best places to run the Outer Banks'? Well, the folks at Great Runs have put together a comprehensive guide to running in the area. It's a great mix of the prettiest, safest road sections, gorgeous off-road paths, primo beach spots for running,
Outer Banks Running Highlights
Best Beaches For Running. The best beaches for running are long, wide, and have firm, packed sand. Good beach running is always situational, but it can be great in the Outer Banks. A 'renourishment' program has helped make the beaches wider and flatter. The most reliable 'packed sand' is near low tide.
 
Best Off-Road Trails. We love the boardwalk in Duck, The town of Duck offers one of the better waterside running options in the Outer Banks. This is a combination of a boardwalk/off-road trail along the water that goes for 0.8 miles, and then a good section of Highway 12, with a decent shoulder and good water views, heading north toward Carolina Dunes. Start in town, and enjoy the boardwalk, and then head north on Highway 12, to Carolina Dunes. This would make for about a 5-mile run. Good water views most of the way. Duck is located at about the mid-way point of the Outer Banks, and its population swells in summer. Run through sand dunes, ponds, marshes and wetlands in this 1,000+ acre preserve that is a National Natural Landmark. Additionally, we love the trails in Nags Head Woods Preserve. Also known as the Nags Head Town Trail, the Preserve is located 4 north of Nags Head and 7 miles south of the Wright Brothers Memorial. There are 5 miles of interconnected trails administered by The Nature Conservancy. Each trail has different features and has a variety of surfaces, from boardwalk to sand to gravel.  The Kitty Hawk Woods Coastal Reserve offers some good running options as well, such as a nearly 1-mile multi-use path, a path alongside Woods Rd. for 2 miles north to US 159, and several miles of wooded trails.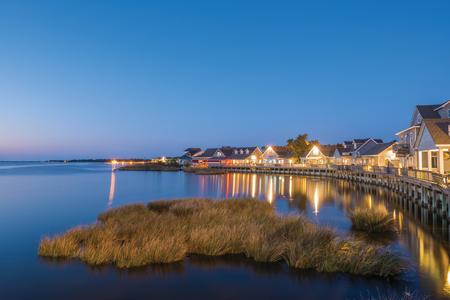 Best History. Wilbur and Orville Wright achieved the first successful airplane flights on December 17, 1903, at this site. You can take flight here too, at the Wright Brothers Memorial site in Kill Devil Hills, which has numerous paths and roads that make for a unique and historic run. There are some good running options around here. We've mapped a ~5 mile run incorporating the paths around the Memorial site, and a jaunt along Colington Creek. Start at the Park Visitor Center (under construction as of March 2018), and run along the walkway path to the Memorial. You'll see a plaque, the original plane, sculpture, and reconstructed Hangar. Run around the Memorial pathways, which is a total of ~3 miles. For an additional 2 miles, run along Colington Rd. west along the Creek and over the bridge, turning around at Billy's Seafood (past here, the road has no shoulder/sidewalk). Return, retracing your steps, using Colington Rd. (which has a path alongside the road), back to Wright Memorial Rd. Another option from the Memorial is to take W. 1st St. north, to Bay Dr., for up to 3 miles. Pleasant residential area, with some shade and good bay views.

Fort Raleigh National Historic Site protects and preserves known portions of England's first New World settlements from 1584 to 1590. Located at the tip of Roanoke Island, near the North Carolina Aquarium. Dump the kids and go for a run! One can put together a pleasant 2-3 run here, paved and trails through a maritime forest. This includes the 1.25 mile Freedom Trail. There are great views from the Fort. Another treat is the Elizabethan Gardens, a historic Botanical Garden. In downtown Manteo, about 2 miles from Fort Raleigh, there are some pleasant side streets good for running — especially east of Hwy 64, to Sandy Point and the Maritime Museum.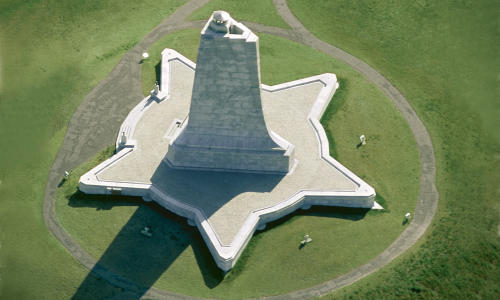 Best Stretch of Highway 12. The best stretch of Highway 12 is the 16 miles between Duck and Nags Head, featuring a separated path and offer some great water views. There are some pleasant roads for running around the towns of Southern Shores and Kitty Hawk. Located just south of Duck and north of Kitty Hawk, the town of Southern Shores offers some of the better running options in the Outer Banks. It's one of the wider spots in the Outer Banks and features some of the area's nicest homes, with quiet, canopied residential side streets good for running. A multi-use path runs along Highway 12, with ocean views in parts. On the west side, there are some good, longer roads along the golf course that are pleasant for running. Note: this is mainly a residential community, so there might be parking and beach access challenges. Rather than a specific route, here are some good running options in Southern Shores: 
Golf Course Run: For an easy, flat, traffic-free run, use N. Dogwood Trail, which goes north-south for 3.25 miles along the Duck Woods Country Club. You can also run out to Martins Point, along the peninsula that comes off the Rt. 158 Bridge.
Residential Streets. There are plenty of residential side streets in Southern Shores that are good for running. Starting at the Outer Banks Visitor Center, head north and wind your way in and out of these curvy streets, using Highway 12 as a focal point.
Highway 12. A multi-use path runs alongside the highway in this area. There are ocean views at some points, though there are homes along the water
Beach. The beach in southern shores is wonderful and can be great for running in the right conditions. Note: Public beach access might be a challenge.
Most Challenging: The dunes of Jockey's State Park, and the sandy Open Ponds Trail in the Hatteras National Seashore. Run the tallest living sand dune on the Atlantic Coast! This is a unique, and challenging run in Jockey's Ridge State Park, which is located in Nags Head. The 1.4-mile 'Tracks in the Sand' Trail leads through towering dunes. Don't be fooled by the distance — running that length in soft sand is a challenge and not for everyone! This is also an opportunity to get some hill work in! You can also combine with the 1-mile Soundside Nature Trail — which opens onto wetlands, grassy dunes, and maritime thickets. It's also sandy but a little less challenging. See the attached park map. Note that this park is exposed on a hot day and that the sand can be 30 degrees warmer, so use caution!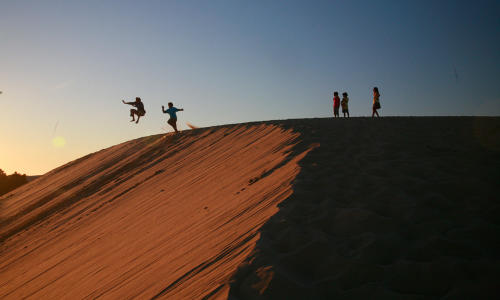 National Seashore Highlights: There's a great variety for running along the Seashore's 67 miles. The nearly continuous beach can be a joy for running, especially near low tide when the sand is compact. There's good trail running along the 4.5-mile Open Ponds Trail, through dunes, shrub thickets, and the maritime forests of Hatteras Island. In the Buxton/Hatteras Island area, a good run is along Lighthouse Rd., up to the Cape Hatteras Lighthouse. America's First National Seashore, Cape Hatteras N.S. is 67 miles long and includes Bodie Island, Hatteras Island, and Ocracoke Island.  The area is gorgeous and minimally developed, with miles along the beach, trails through woods and salt marshes, and a lovely jaunt up to the Cape Hatteras Lighthouse. The highlight of running is along the nearly continuous beach, which can be gorgeous for running.  State Highway 12 is the main road through the Park. There is a reasonable shoulder for running, but not that many water views– it's mainly running along open, scrub/dune terrain. Quite exposed. The best running options in Cape Hatteras National Seashore Park:​
Beach. There are 70 miles of beach, with numerous access points and parking lots. The best running is near the waterline, where the sand is firmest, most predictable around low tide. Running closer to the dunes is more challenging. Note there might be ATVs and some sections might be occasionally closed.
Trails. There are some trails that are good for running on Hatteras Island. The most extensive is the Open Ponds Trail, 4.5 miles through dunes, shrub thickets, and maritime forests of Hatteras Island as it winds its way between British Cemetery near the Buxton Woods Picnic Area and Trailhead and the Frisco Campground. Another option in the area is the Buxton Woods Trail, a level trail for 3/4 mile each way, starting at the Buxton Woods Picnic Area.
Lighthouse Run. In the Buxton/Hatteras Island area, a good run is along Lighthouse Rd., up to the Cape Hatteras Lighthouse. It's about 3 miles one-way from Highway 12 to the old lighthouse site, then the new one, to the entrance to Cape Point Campground.

Other Tips for Running in the Outer Banks
Weather & Tides. It can be really hot at the height of summer, and many of our routes are exposed to the elements. Make sure you have a hydration plan. On hot days, best to go early or late. Keep an eye out for thunderstorms. For the best beach running conditions, aim for a couple of hours within the low tide. See this tide table.
Join a group run or run a road race! The Outer Banks Running Club hosts regular group runs that are open to visitors and also plans numerous road races throughout the year. One signature event is the Killer Dunes 2-Miler and Fun Run, held July 4. Check out other running events and marathons on the Outer Banks of North Carolina.