Bodie Island Lighthouse
The Cape Hatteras National Seashore begins on the outskirts of Nags Head, NC in an area generally referred to as Bodie Island (pronounced "body"), a ten-mile section of waterfowl ponds and golden beaches along NC12 coastal highway, punctuated by the pulsing light of this 1872 lighthouse erected to mark Oregon Inlet for those on the approach to these Outer Banks.
Located just south of Nags Head, the Bodie Island Lighthouse as it stands today is the third such beacon built to help mariners maneuver the coast from Cape Hatteras to Currituck Beach. The original Bodie Island Lighthouse was built in 1847, on the south side of Oregon Inlet in an area known today as Pea Island. Abandoned twelve years later due to a poor foundation, the lighthouse was rebuilt in 1859, again south of the inlet, but was blown up in 1861 by retreating Confederate troops who feared the Union would use it to their advantage for navigation.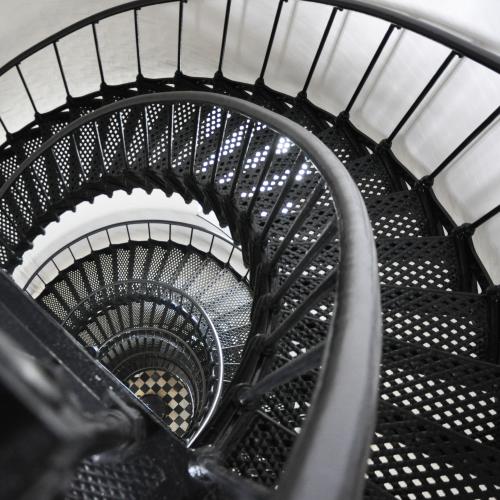 Today's Bodie Island Lighthouse was completed in 1872 on the north side of Oregon Inlet near the northern border of the Cape Hatteras National Seashore. The familiar black and white horizontal striped structure was partly built of materials leftover from the construction of the newest Cape Hatteras Lighthouse. Standing 150 feet high and equipped with a first-order Fresnel lens, it flashes its 160,000 candlepower beacon 19 miles over the ocean. The Currituck Beach Lighthouse is considered its architectural twin.
At Bodie Island, you have the chance to climb the lighthouse at your own pace and take in the gorgeous natural surroundings of Bodie Island, the Atlantic Ocean, and Pamlico Sound. The Bodie Island Lighthouse is open from the third Friday in April through Columbus Day (in early October). Climbing hours are every 30 minutes, and start at 9:15 am daily. Tickets are required.
Climbing tickets are $10 for adults and $5 for senior citizens (62 or older), children 11 years of age and under, and the disabled. Climb tickets are available on a first come, first served basis and can only be purchased in-person at the site the day of the climb. There are no advance ticket sales for regular climbs. Ticket sales begin at 9 am, with climb times running every 20 minutes with a limit of eight visitors per climb. The last climb takes place at 4:30 pm. Ticket holders should arrive at the base of the lighthouse five minutes prior to their ticketed climb time.
Due to climb limitations, educational fee waivers for school groups are not offered for Bodie Island Lighthouse climbs.