Raw OBX
Some people call the Outer Banks their happy place. To others, the islands are the center of their joy. It's been said if you love what you do, you'll never work a day in your life. We'd add that if you nurture that place where your heart finds its bliss, your soul will never grow old. Life on the edge of the continent isn't easy nor for the faint of heart, but for the spiritually fortunate who've discovered their passions on the OBX, working hard to live life to the fullest is the easiest choice to make. Let's get you there. Welcome to Raw OBX.
Surfing
The Outer Banks of North Carolina is widely regarded as having the best surf breaks on the entire East Coast. And that's on a bad day. On a good day, if the forces of nature decide they feel like jamming together, Cape Hatteras could rock and roll for days with the endless raw energy of a teenage garage band. Sometimes it feels more like a classic orchestra. Whatever rhythm you rip to, play chase with a few frothy green monsters in our neighborhood and you might find yourself wanting a new tattoo. 
The Outer Banks Visitors Bureau would like to extend a special thanks to the following for appearing in the videos and helping us share the surfing culture of the OBX: Brett Barley, Chloe Weinert, Will Dean, Quentin Turko, & Blayr Barton. 
Fishing
Leaving the asphalt in your grocery getter to traverse miles of wilderness beach in search of brawler gamefish is one of the most primal ways to flay away the sheen of city life for a day or maybe even a lifetime if you get hooked. See what we did there? "Hooked." Catching is its own reward. Fishing, on the other hand, is an alternative lifestyle. If you can't look at a striped bass or red drum without seeing two thick tenderloins with eyes, grab your rod and head this way. If you've never invited a complete stranger to Thanksgiving after running a blitz of bluefish together, well, you're just missing out. Don't worry, we have people for that. Welcome to Fishing with a capital "F," where everything under the water's surface has teeth, tastes good and might be smarter than you. This is Raw OBX.
The Outer Banks of North Carolina is a sport fisherman's paradise, a four-season destination. Find charter boats, fishing piers, and license info and other angling opportunities that make our waters some of the best in the world. The Outer Banks Visitors Bureau would like to extend a special thanks to the following for appearing in the videos and helping us share the fishing culture of the OBX: Stuart Baldwin, Donnie Davis, Nic McLean, Jess McLean, Stefan Turko.
Birding
The Outer Banks of North Carolina is known world-wide for having the best birding opportunities on the East Coast of North America. "Birding the Banks" offers more than just spotting birds as a diversion and adding to one's life list. The OBX is in the Atlantic Flyway, the major north-south flyway for migrating birds headed from northern locales of Canada, the Arctic and Greenland to South America and even Antarctica. The busiest portion of the flyway covers very little landmass, thus most of it is over or close to water including the Atlantic Ocean and the Gulf of Mexico, however we welcome hundreds of species each migration.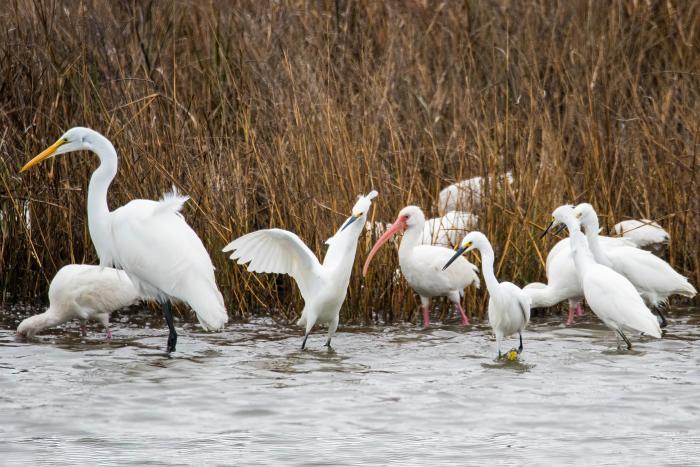 Keep OBX OBX
These outdoor spaces provide the platform for sharing new ideas and checking in with yourself on what's important in life for you and those who come after. It has the power to transform strangers into instant friends who share a mutual respect for the duality of the landscape. One which is both powerful and fragile at the same time. Small but mighty actions make all the difference as we all work together to protect these natural wonders and vibrant cultures for future generations to come. Every person who visits the Outer Banks leaves an impact on this tiny sandbar. Learn more about how you can be a responsible traveler and show love to the OBX.
The Outer Banks Visitors Bureau would like to recognize the following organizations for their support and guidance during the video production process and perennial stewardship of our community resources: National Park Service, NC Beach Buggy Association, Outer Banks Forever, Surfrider Foundation, US Fish & Wildlife, Cape Hatteras Anglers Club, Outer Banks Anglers Club, Manteo Rotary Club (Rockfish Rodeo).