I'll admit it: I'm beach-spoiled. Growing up in Southern California, the coast was just 30-ish minutes from my house, give or take the crazy bottleneck traffic the region is known for. Some of my best childhood memories are of collecting seashells with my grandma and eating saltwater taffy on Sundays. Once I got my driver's license, there were beach bonfires and laying on the sand for hours with my best friend. We worked diligently to deepen our tan lines. (Remember the days of single-digit sunscreen?)
I love West Coast beach life because it's a part of me. But…
After my first trip to North Carolina's Outer Banks islands (OBX), I can say with full, California-girl authority that this East Coast spot has something really special going on. For generations, families have been vacationing here, inviting other families to join them in what amounts to one amazing, relaxing, good time for all. And, it's unlike anything you'd find in the golden state. Read on to learn what makes the Outer Banks so great and why I think every beach lover should go.
1. There's plenty of space to play.
In Southern California, the beaches get jam-packed and it can take an act of God for a parking spot to open up. Not to mention trying to find a patch of sand big enough for your beach blanket, sandwiched between the family with crying kids and the teens blaring music. Let's just be real: People are happier, and nicer when they have space to spread out.
The OBX has 100 miles of coastline and much of it is protected park land. We're talking pure, untouched beaches on the Atlantic with tons of elbow room. One that's loaded with amenities like lifeguards, flush toilets and showers is Coquina Beach, a part of the Cape Hatteras National Seashore. Besides the normal day-at-the-beach activities, you can also search for fingernail-sized coquina clams that hunker down in the water-soaked sand here.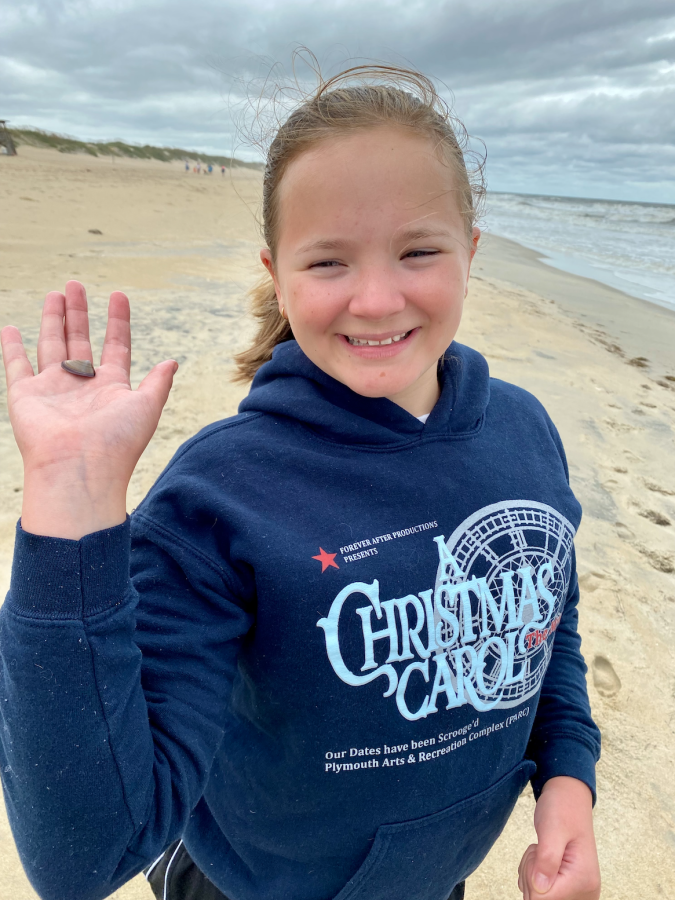 2. The water is warm.
Frolicking in the Pacific involves not only bracing yourself against the waves but also the frigid water. As a kid, it was no big deal. But now? No way. When I stepped into the ocean in the OBX, I immediately noticed the difference. And it's not just all in my head. According to the Old Farmer's Almanac, the Atlantic Ocean is about 16 degrees warmer on average than the Pacific. During the summer months here, the ocean water is usually in the '70s.
3. You can choose from a variety of water sports.
The Outer Banks chain of islands runs parallel to the North Carolina coast. It has two bodies of water to play in: the Atlantic Ocean and the sound, which is the shallow body of water up to 30 miles wide between the mainland and the islands.
Want to surf? The Outer Banks is home to the biggest waves on the East Coast. Rent equipment and take surfing lessons from any number of surf shops. We didn't surf this time, but the kids had fun with the boogie boards we rented. And, we caught some of the Outer Banks Pro, a surfing competition in Nag's Head. The bonus? It took place on the beach right outside of our vacation rental at Whalebone Oceanside Cottages.
On the sound side, you can kayak, take a dolphin boat tour, jet ski, and go paddle boarding and tubing. On our private tubing trip with Kitty Hawk Kites, Captain Randy veered back and forth around the sound giving my kids the wild ride they were begging for. On our dolphin boat tour, we got up close to more than 20 to 30 dolphins including baby ones (cue the squealing from every single passenger).
4. There are unique land activities you can do.
Not into donning a bathing suit? Don't worry, I promise you won't be bored. Two of our favorite trip activities were on land. My kids and me learned how to hang glide at Jockey Ridge State Park. We took our first flights off the dunes there, which are 60 feet high or more – a first for all of us and something we'll be talking about for years to come. Other people at the dunes were flying kites or just walking up and running down the huge hills of sand.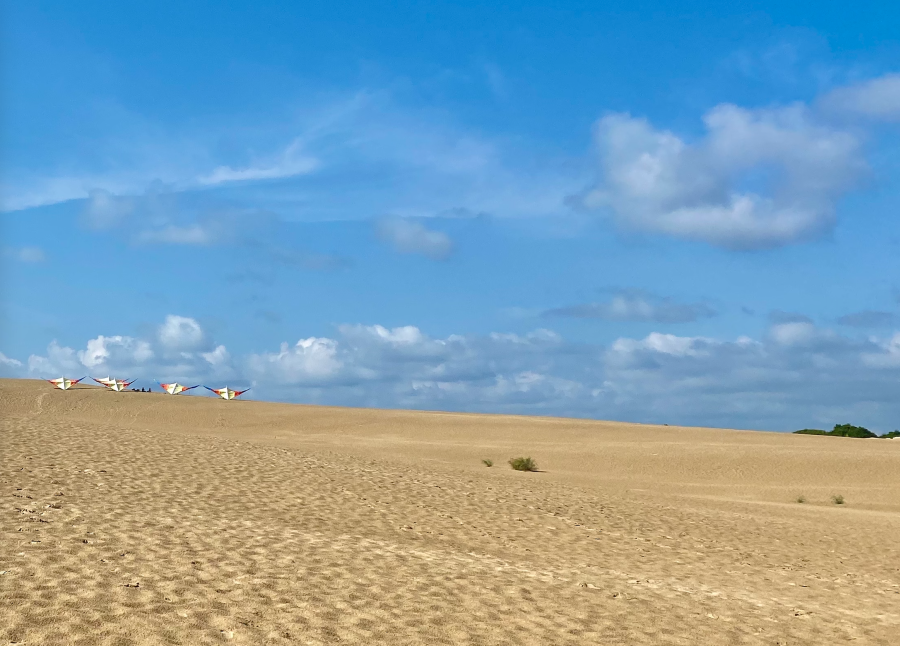 My family and I also loved crabbing. We purchased cord at a fishing shop and chicken legs at the grocery store. We tied the drumsticks to the cord and then lowered them into the water at a spot on the sound. Almost instantly, blue crabs clutched onto the meat refusing to let go until we pulled them out of the water. We had a blast catching and releasing them, though you can keep the bigger ones to eat if you like. 
Another offbeat activity is driving on the beach. Yep, right there on the sand. You can do this during the summer along the Cape Hatteras National Seashore, but you do need to get a permit online. Some folks do it for the novelty while others are trying to get to a remote section of the shore to fish or guarantee they'll have the beach all to themselves.
5. The coast is wild and romantic.
Nag's Head and the towns north of it are built around vacationers coming and going. The beaches are lined with vacation homes on stilts, condo rentals, ice cream and taffy shops, burger joints and seafood markets. But that all changes once you're on the Outer Banks National Scenic Byway (NC Highway 12). We explored the portion of it that runs from Nag's Head to Buxton along the Cape Hatteras National Seashore and it felt like we were discovering a still-hidden gem.
Since the coast is protected land, it's nothing but undulating hills of sand, seagrass and beautiful, empty shore broken up only by a few lighthouses along the way. Inland, small villages are filled with wood-shingled houses that have grown silvery from years of saltwater in the air. Here you can find campgrounds and enough amenities to make vacationing easy, but without all the bells and whistles found further north.
We stopped at Bodie Island Lighthouse to snap pics of the black-and-white-striped sentry. At Pea Island Wildlife Refuge, we spotted turtles in a sound-side pond and a sunken ship from the 1800s that still remains just off the shore. We learned from park rangers at the Cape Hatteras Lighthouse that the OBX is a giant sandbar and that sea turtles return 20 years later to nest where they were born. It was an incredible day!   
6. There are loads of beach homes to rent.
No doubt, vacation home rentals are super popular these days and even more so among families. You can put the kids to bed and still hang out in the common areas for grown-up time. Plus, being able to cook your own meals – like freshly caught seafood – instead of eating out all the time (and do laundry whenever!) makes a week at the beach more affordable too.
There are tens of thousands of OBX vacation rentals. In fact, they far outnumber available hotel rooms. Want a home on the beach? Done. Does a hot tub, bikes, and a view of the ocean sound good? No problem. Take your pick from massive homes perfect for family reunions to small cottages made for a family of four. (Note: Most of the homes are rented through various management agencies rather than being listed on common vacation-rental sites like AirBNB and VRBO.)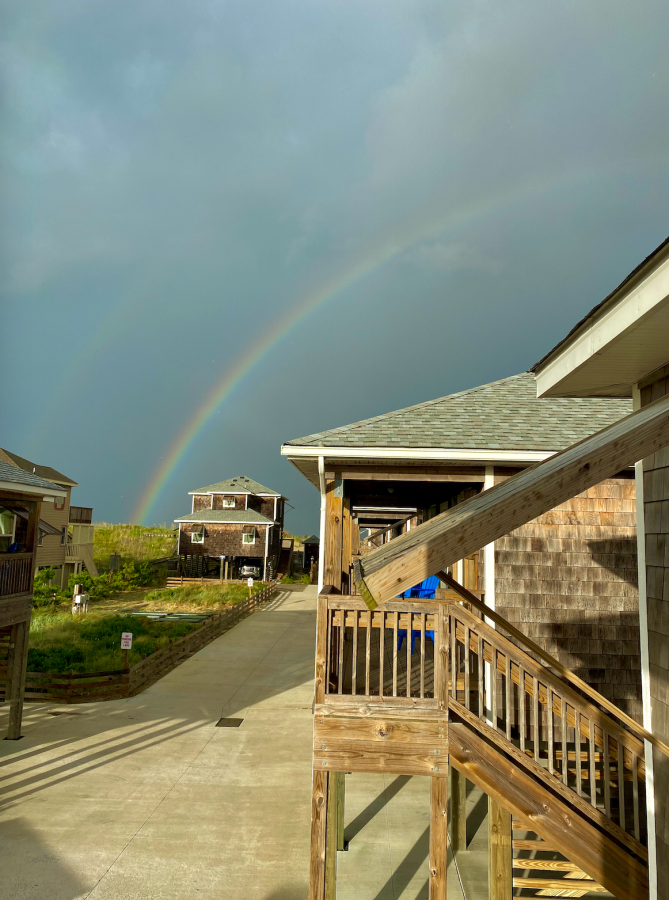 It's no wonder that people return to the OBX year after year for more magical memories. There's something for everyone, from classic beach activities to offbeat adventures to simply soaking up the peaceful scenery. And, I have to admit, you can add my name to the repeat list too because I'm 100% certain that I'll be back someday soon.