When people recommend "shopping" in the Outer Banks, often they'll lead you to beach chairs, coolers, and sunscreen. There's a lot more style hiding in between the bungalows and bodegas, though. A collection of chic boutique owners in the Outer Banks have created a curated trail of fashion finds waiting to be discovered. We'll start from the north to create our fashion cruise down through our beloved barrier islands.
Duck
1240 Duck Road
This minimalist and ocean-inspired boutique blew into The Waterfront Shops like fresh sea air. The store carries trendy and timeless pieces including Lack of Color hats, Agolde bodysuits, For Love and Lemons camisoles, and high cut bikinis from smaller and well-known brands. Stock up on essentials you can wear at the beach just as easily as you can back in the city.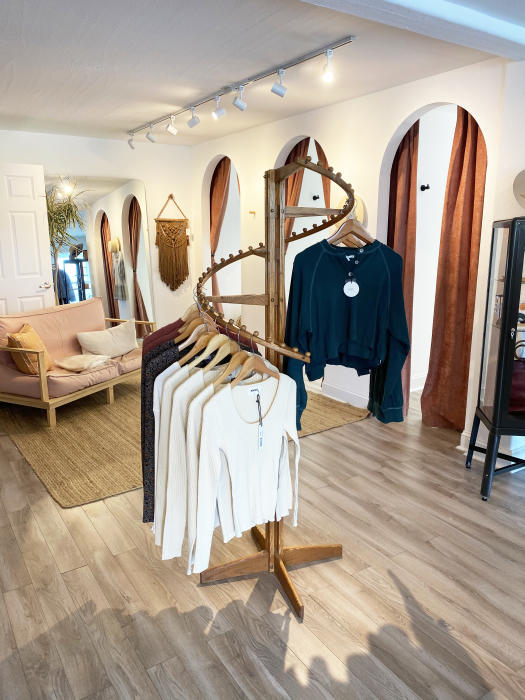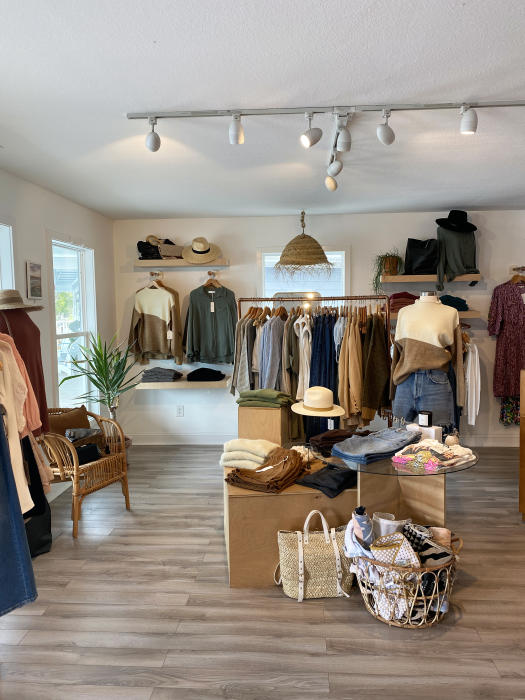 1117 Duck Road
As the name may suggest, there's a heavy emphasis on home decor inside this Scarborough Faire Shopping Village shop. Modern throw blankets, glassware, pillows, and poufs are some of the home and lifestyle items you'll find here. For fashion, you can add hats and robes to your bag. Handmade earrings and gold vermeil necklaces also round out the tightly curated options here.
Kitty Hawk
3720 N Croatan Hwy
You can't miss this cute pink building in Kitty Hawk. Inside, you'll find a funky and colorful collection of jewelry, dresses, vests, tunics, and more. Grab an entire outfit for dinner or pick out jewelry to bring back home as a gift. Elevate your beach hat game here with a fun and practical collection.
3702 N Croatian Highway
This trendy fashion hub carries everything for the "It Girl" at the beach and beyond. Cutout dresses, felt fedoras, leather crossbody bags, and cheeky swim sets are a few regular finds in this colorful shop. You can also scoop up art prints to take home to remember your beach stay.
Kill Devil Hills
3213 N. Croatan Hwy
Mom's Sweet Spot is special for many reasons. We'll start with the style. You'll find a blend of vintage and new shirts, dresses, accessories, shorts, denim, and more for your beachside and street style wardrobe. While you're there, browse a collection of home decor like seashell jewelry dishes, stained glass sun mobiles, ceramic tumblers, and throw blankets. Hungry? Step over to the kitchen to order premium milkshakes, acai bowls, and CBD seltzers.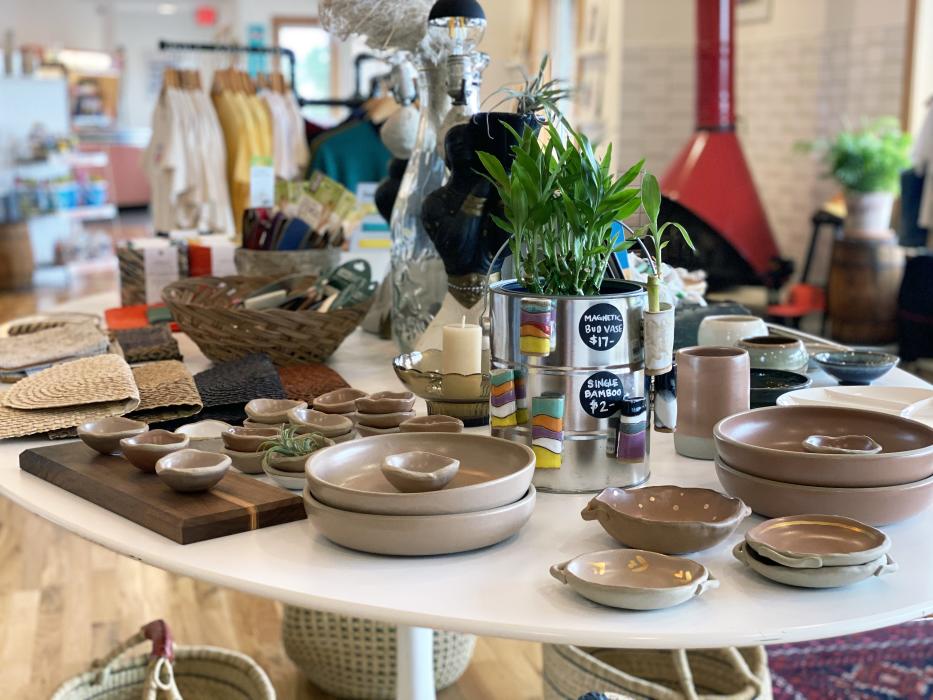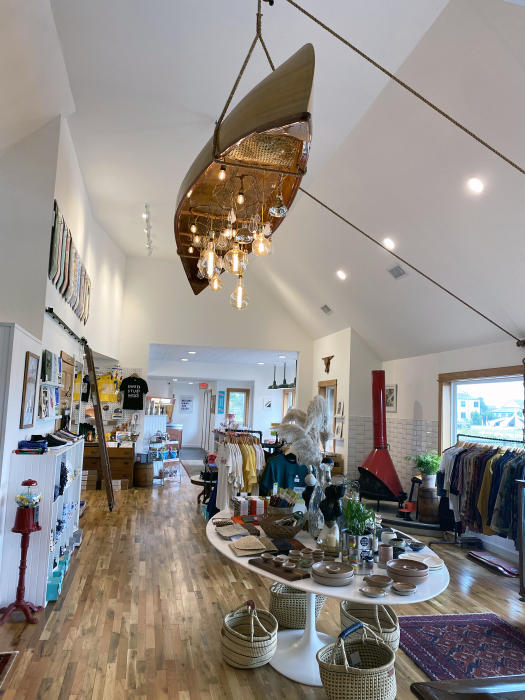 3105 N Croatan Highway
This warm, flirty boutique is filled with fashion finds for the everyday fashionista or the traveling beach goddess. Flowing gauze maxi skirts, high-waisted denim, kimonos, and rompers are all chic picks for the girl on the go, whether you're headed to a wedding or to sunset drinks on the beach.
Nags Head
2921 S. Croatan Highway
This shop welcomes the elevated beach babe. Reach for loose linen cover ups, flowing cropped camis, stone wrap bracelets, espadrilles, and rich leather bags by Hobo. The French door also carries a home and wellness collection with candles, bath bombs, and cute inspirational signs.
2515 S. Croatan Highway
You may need a while in this winding shop with a little something for every beach babe. Simple cross body bags, beach-inspired jewelry, and ready-to-wear hats are full of fun and easy items to add to your wardrobe. The shop also carries fun-infused wardrobe staples and statement pieces including dresses, skirts, denim, and shoes.
2815 S Croatan Highway
The Secret Spot is an Outer Banks staple and has been for 40 years. If you're a surfer, this is your stop. The experts here bring the best boards and tips to you. Beyond the waves, you'll find clothing brands like Billabong, Hurley, Quicksilver, Sanuk, and more represented on racks and shelves. Stock up on skirts, board shorts, hoodies, and sandals from the bonafide surf brands.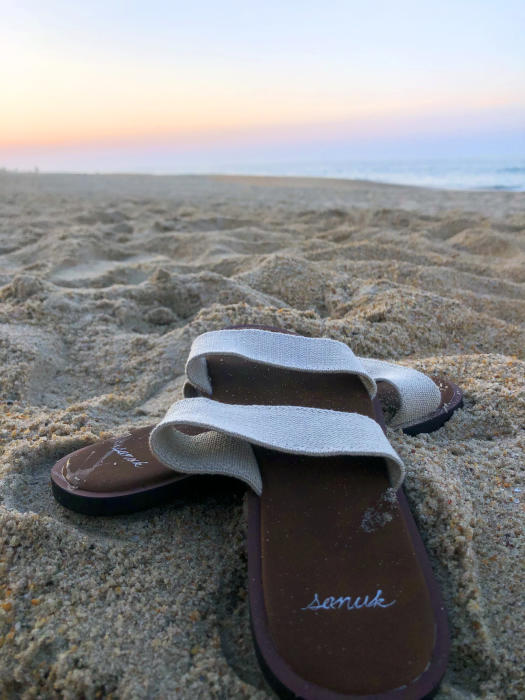 Manteo
This inviting shop is jam-packed with home decor and fashion finds. Pick up bitters for your bar cart, straw hats for your beach fits, vintage band tees for your concert nights, and Turkish pillows for the couch. There's a little bit of everything inside of Sister's, yet it all seems to match. The textures, colors, and smells are ready to elevate your beach home or your city wardrobe.
105 Budleigh Street
This beachy boho haven carries a variety of straw hats and bags, espadrilles imported from France, cashmere tops, and artisan jewelry in the way of fashion. As the name "Nest" also nods to, the shop also features a cozy and refined collection of home fragrances, imported soaps, kitchen utensils, and decor. 
Waves
25706 Highway 12
If you're here for the adventure, you'll want to make REAL a stop anyways. This watersport hub can get you on the water kiteboarding, surfing, and foil boarding. Inside, the expansive shop carries everything you need like wetsuits, boards, and rash guards. There's a large collection of men's and women's clothing here, as well. Shop sunglasses, shorts, skirts, belts, wallets, and hats from the top surf brands.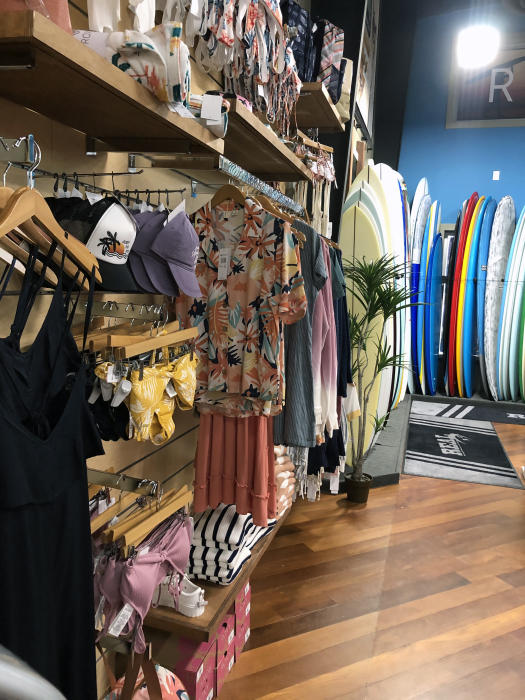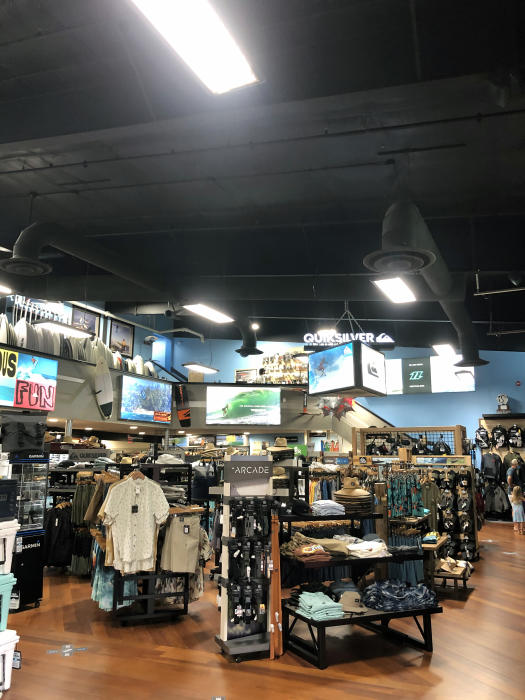 Avon
40534 NC 12 Highway
This store is all about fun! Tie-dye leggings, seashell-adorned purses, bamboo sunglasses, and floral dresses shine in this Avon boutique. You can also find everyday jewelry, denim, and original design t-shirts. Make sure to peruse through the wine glasses, handmade jewelry, and home decor to bring home to friends and family--it's a perfect one-stop shop.
Looking for more shopping?
There are many more shops around the Outer Banks. Discover them all. Check out our full Shopping Guide here.